Have you seen our quilt kits at shows and were interested in purchasing one after the show was over? Well, now you can! Check out our "Shopping" link to the left to see which of our kits are available online. Completed quilts (samples for fabric that is no longer available in the shop) will also be available for sale online.
We will be adding more kits and sample quilts over the next few weeks, so check back often to see what's new.
Did you know you can also register for classes online? When you see a class you would like to take, all you have to do is click on the lower right corner where it says "Register for Class and Add to Shopping Cart". You will be enrolled in the class, and we will send you a copy of the supply list in the mail.
Our shop hours are:
Mon - Sat: 10 am - 5 pm
Sunday: Closed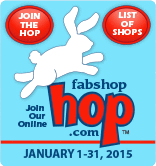 Hint: Go Shopping!